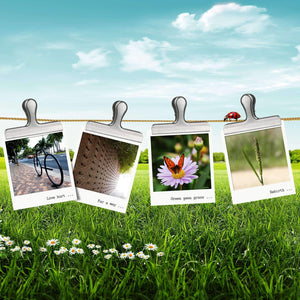 BAOEF Chip Clips,4.7'' Jumbo Large Heavy Duty Stainless Steel Wide Food Coffee Bag Airtight Seal Grip for Kitchen,Binder Clip,Office Paper Clamps,6 Packs
Regular price
$15.99
Sale price
$22.55
Brand: BAOEF
Color: Silver
Features:
1.Size:Big/wide enough to keep your food/dog food bag closed and sealed.
2.Sturdy&Durable:BAOEF chip clips are made of high quality stainless steel which can be used for long years.They are solid and do not seem like they'll break like plastic clips anytime soon.
3.Tightly Seal:These seal grips have strong spring tension. They can keep your food/chip bags closed and sealed.But the bag clips aren't difficult to open.
4.Multipurpose:Ideal for using in office,garage,shed and great for sealing potato chip bags,cereal bags,bread,frozen food,dog food bag,bread,nuts, beans,sugar,etc.
5.Note:These clips are made of solid metal so please be careful of the edge may be a bit sharp.Please don't run my fingers along the clip edge.
Publisher: BAOEF
Details: Brand:
BAOEF
Material:
Stainlees steel 304
Package:
6 Packs
Feature:
√Design:Smooth surface, no-slip teeth, close-knit jaws works great to seal the bag what you want.
√Ideal gift:They are the good quality items to share with family members,friends.
√Portable:Perfect size,light weight and convenient to store or carry.
You can simply clip them on or toss them in your tote bag.
√Anti-corrosion:These stainless steel binder clips are more durable in daily use unlike the plastic or wood. Tight Sealing:
Protect your food from air or water by keeping the bag fully closed
and protect against freezer burn and stops food from becoming stale.
It will keep the freshness of your food for much longer.
Multi-application:
BAOEF stainless steel bag clips work great for bread, cereals, cookies,
chips, coffee, rice, nuts, beans, spices, dried fruits, fresh and frozen foodstuff, cornflakes,etc.
Warn:
As the material of stainless steel clips are heavy duty,please be careful of the edge and don't run your fingers along the clip.
We recommend if you plan to have for children,you'd better mention them.
UPC: 799445051837
EAN: 799445051837
Package Dimensions: 6.7 x 5.2 x 2.1 inches