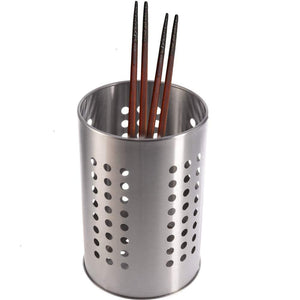 kitchen Utensil Holder, 7" Stainless Steel Cooking Silverware Storage Stand Flatware Organizer Stovetop Drying Caddy
Regular price
$8.99
Sale price
$12.68
Brand: Gaiatop
Features:
Size: 4.72''*4.72''*7.09''; Has large a capacity to hold over 15 cooking tools easily. Perfect to keep your utensils upright and accessible, take up minimal counter space.
Made of high quality stainless steel with exquisite craft, durable, anti-oxidation, rust resistant, break-resistant, can be used for a long time; Smooth surface makes it easy to clean.
Features drain holes all around the holder in round shaped holes evenly properly, allow efficient drying of utensils. Dishwasher safe.
Flat heavy bottom makes kitchen utensil holder still even holds one utensil without annoying tipping over.
Great for drying and holding your utensils: spatulas, ladles, spoons, tongs, whisks. Also can be used to hold bathing accessories, beauty product and office & school product.
Publisher: Gaiatop
Details: This kitchen utensil holder is suitable for storing, drying and keeping your favorite It holds your silverware, dry your silverware (spoon/spatulas/turner/spoons etc.), accessible on the countertop, cultery holder.

Product features:

It is made of high grade stainless steel with a bright and hi-luster finish that resists rust and dullness to maintain its gleam over time. Completely dishwasher washable.
Large enough to hold a bunch of utensils and large size cutlery. Perfect to keep your utensils upright and accessible, take up minimal counter space and great to get your utensil drawers cleaned up.
Nicely ventilated drain holes of the body help air dry water in the utensil holder, avoid it going moldy, so that you do not have to wash it often.
This endless use kitchen utensil holder can hold utensils, cutlery, chopsticks, straws, pencils, rules, binder clips, beauty products like hairbrushes, craft stuff, toiletries, flowers, even to drain your pasta while boiling your water.
Package includes:
1 * Flatware Caddy
UPC: 765673162003
EAN: 765673162003
Package Dimensions: 9.9 x 6.0 x 5.4 inches