• HoneyMustardMiniMeatloaf • MiniMeatloaf • Recipes • SheetPanDinner • SheetPanMiniTurkeyMeatloaves
I previously made a similar recipe to this – my balsamic turkey meatloaf sheet pan dinner – that one was such a hit with my family that I figured I would create another similar one!  You can pick your sides and make everything on one pan (I like to use these pans) but any sheet pan will work! What ingredients do I need to make sheet pan mini meatloaves? Ground chicken – you could also use ground turkey or ground beef Egg – serves as the binder to hold everything together Panko breadcrumbs – I like to use the Italian...
---
• GlutenFree • Recipes • Snacks • TakeToWork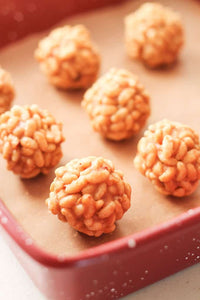 Naturally gluten free and vegan rice krispies balls!   Looking for healthier recipes with Rice Krispies cereal? These rice krispies balls are made with brown rice syrup and natural peanut butter. What could be better?   Also, if you need a good boost of energy before a workout or a quick sweet snack these are excellent. Crispy, chewy and just plain delicious!     HOW TO MAKE HEALTHY PEANUT BUTTER RICE CRISPY BALLS   These little balls of whole grain goodness are quick to whip up and have a short ingredient list. Only FOUR whole foods ingredients are needed! Crispy...
---
• Baking • PumpkinCakeMixCake • PumpkinDumpCake • Recipes • TheBestPumpkinCake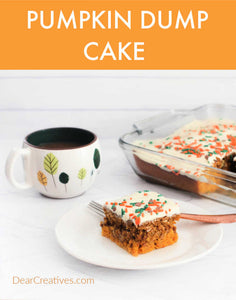 We are adding it to our easy cake recipes because it ended up being so moist and tasty. I know we will be making this over and over again anytime we are craving something sweet, need a dessert to make, or having guests over.  This pumpkin cake is perfect for fall, holidays like Halloween or Thanksgiving. Think office parties, birthdays… If you work, or are busy and are looking for an easy dessert to make, this is it.  Pumpkin Cake It looks so pretty when baked because you swirl the pumpkin spice right into the cake mix. You make this...